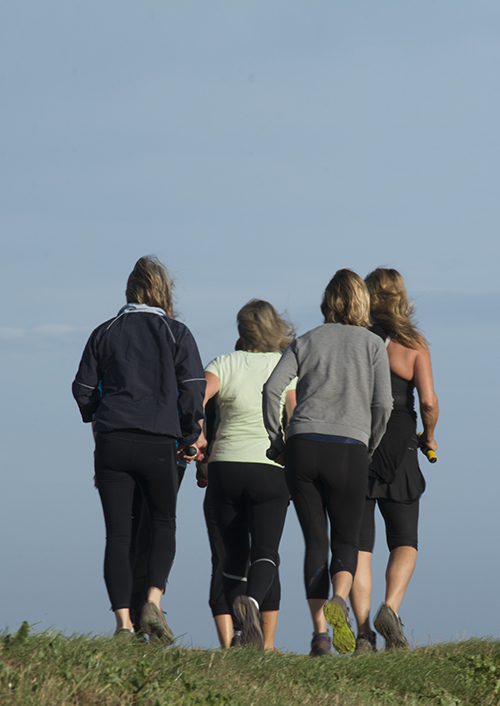 Taking groups of people Power Walking has been an absolute delight. Enjoying the wonderful North Norfolk Coast, connecting with nature and taking in the beautiful, ever changing, big skies. It not only lifts our spirits and clears the mind, but keeps us fit, is gentle on the joints and kind to the heart and body. The time flies by as we are mindful of our environment going out in all weathers, each day is always different and inspiring.
There are many benefits to Power and Nordic Walking. They strengthen the whole body, build bone density, develop strong muscles and joints, reduce stiffness in joints, improve circulation and help condition the lungs. Stress is reduced through the meditative qualities of focused walking.
Power Walking strengthens the whole body and helps you to make the transition from a leisurely walk to a speedy pace. Nordic Walking uses poles to help propel the body forward and apply force with each stride. This enhanced exercise builds strength and stamina throughout your upper body as well as your core muscle groups. You work up to 90% of your skeletal muscles and burn up to 50% more calories than with normal walking.
Everyone can benefit from Nordic and Power Walking regardless of age or fitness. If you would like to try either type of walking please do get in touch and I will be delighted to discuss your needs. I am happy to introduce you to either, or both, through private sessions as a starting point. Please see my private sessions page for more detailed information.
I currently offer Nordic Walking on a one-to-one basis, Power Walking on a one-to-one basis and group Power Walking classes. Throughout the session there will be stops where you will be guided through body strengthening and toning exercises.
Power Walking Classes
Monday 8.45am – 9.45am – Salthouse (Intermediate)
Wednesday 8.45am – 9.45am – Salthouse (Intermediate)
Friday 8.15am – 9.15am – Salthouse (Advanced)
Friday 1.30pm – 2.30pm – Salthouse (Intermediate)
All classes £12 drop-in or can be booked in blocks at a discount.
Please contact for further details and to book/join a class or 1-2-1 session.
For Nordic Walking please see Private Sessions page
Nature's peace will flow into you as sunshine flows into the trees. The winds will blow their own freshness into you and the storms their energy while cares will drop away from you like the leaves of autumn.
John Muir