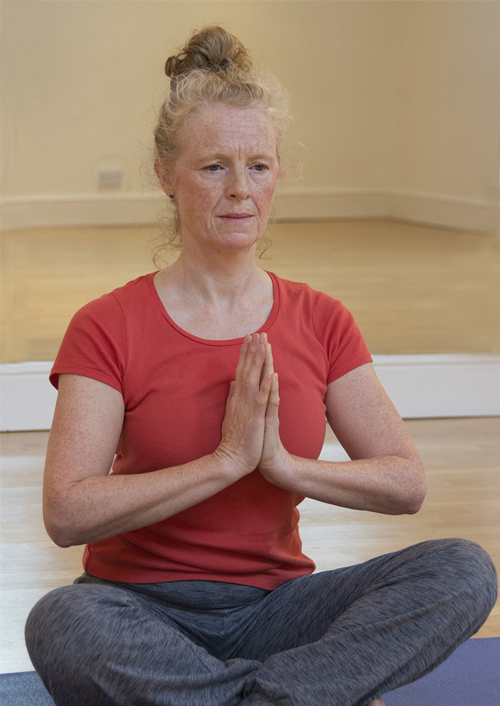 I teach Hatha Yoga, a path creating balance and uniting opposites with the practice of asanas (postures). Ha means sun and tha means moon…the yin and the yang, light and dark, coming together of opposites. Our bodies are different every day, the body I had three weeks ago is different from the body I had three years ago and will be different again from the body I'll have three years from now. Hatha Yoga encourages you to come as you are, embrace what unfolds and move forward encouraging transformation in a positive way. All yoga wants you to do, in its Hatha way, is inhale the sun of your soul, exhale the moon of your spirit and find the truth that heals.
My classes build strength and flexibility and help develop calm and balance in our hectic lives. Encouraging a mindfulness practice with the focus on the breath, this not only balances the mind and body, but also helps find a deep strength within, enhancing vitality and harmony in one's life and lifting the spirit. I create a nurturing space by bringing care and warmth to the class, enabling students to connect to their true self by encouraging them to listen to their bodies, find their edge and look within to reach their truth and wholeness.
Classes
Yoga at Cley Village Hall, The Fairstead, Cley, NR25 7RJ
Mondays 6pm – 7.15pm
13 September – 11 October
5 week block £60 or £15 drop-in
Yoga at Swanton Novers Village Hall, 45 St Giles Road, NR24 2RB
Wednesdays 6pm – 7.15pm
15 September – 13 October
5 week block £60 or £15 drop-in
Qigong at Heydon
Fridays 10.30am -11.30am
Classes begin on Friday 10th September until Friday 15th October
For this block we will be going over the 5 Element practice that we have previously practiced plus a few new forms from The Golden Bell Sholin Temple practice, I also hope that we can fit in 'Ba Duan Jin' (The 8 Silk Brocades), so lots of fun and exploration in such beautiful surroundings.
Please do not worry if you have not practiced Qigong before, we will take it nice and slowly
Price is £60 for the block, Bank Transfer or cash please.
Zoom Meditation
Fridays 6pm – 7pm
17 September – 15 October
Zoom Yoga
Wednesdays 4pm – 5pm
15 September – 23 October
Please contact me to book classes any of the classes or for more details via giniharrison@btinternet.com
For those who have an intense urge for Spirit and wisdom, it sits near them, waiting.
Patanjali, The Yoga Sutras of Patanjali